Do you want to evaluate a piece of hardware before you commit to buying, or does your R&D project require some kit for a limited amount of time? Level Five Supplies offers a range of autonomy enabling equipment for rental.
To find out more or arrange to hire any of the solutions below, please get in touch.
LiDAR | Radar | Ultrasonic | Camera | Positioning | Drive-by-wire | Mobile robots and platforms | End effectors
LiDAR
Blickfeld | Inertial Labs | Kaarta | Luminar | Ouster | Quanergy | SICK | Valeo
Do you need LiDAR components or are you planning to survey an area professionally? We also hire and sell integrated survey products for vehicle, UAV and handheld surveying
Blickfeld
Cube 1 – wide field-of-view 3D LiDAR
Cube 1 is the world's smallest solid-state 3D LiDAR sensor for wide field-of-view applications.
A versatile, long-range LiDAR featuring an adaptable field of view and configurable scan pattern, with a lightweight, compact form factor.
The durable proprietary solid-state technology is maintenance-free, while on-device pre-processing, easy to use web user interface, and associated recognition software make Cube 1 a smart solution for countless applications.
---
Luminar
Luminar's Iris LiDAR
Iris is the most advanced LiDAR perceptions solution for series-production autonomy, solving the problem of reliable, long-range sensory perception for real-world, safe-driving vehicle systems.
From autonomous motorway driving to full autonomy in urban areas, Iris is configurable with one, or multiple, perception enhanced LiDAR sensors to fit consumer and commercial application requirements.
---
Ouster
OS0-128
With its 95º vertical field of view and minimum range of zero, this second-generation OS0 ultra-wide view digital LiDAR sensor from Ouster allows you to see more, creating uniformly spaced point clouds and pixel-aligned 2D camera images.
Lightweight and modular, this ultra-wide view LiDAR sensor seamlessly integrates into your vehicle, drone or robot, with built-in IMU for SLAM algorithm support.
OS1-64
Sturdy, dependable high-resolution mid-range 3D LiDAR sensor that can count and store over one trillion photons per second into on-chip memory. .
The L2X chip and dual returns capability enable object detection through rain, snow, fog, dust, smoke, and other obscurants. While IP 68/69K rated enclosure is rugged, waterproof, robust to shock and vibration, and temperature rated from -40 ºC to +64 ºC.
---
Quanergy
M8-PoE
A high-performance LiDAR sensor providing superior 3D perception using multiple eye-safe laser beams and time-of-flight (ToF) measurement technology.
The robust M8™ LiDAR, from Quanergy, features a wide field of view (360° horizontal, 20° vertical), up to 200-metre range, < 3 cm range accuracy, and fine resolution, enabling the highly reliable sensor to address challenging applications, even in harsh environments.
M1-Ultra
200-metre range, with an extremely fine angular resolution of 0.033°, M1 offers high-density point cloud data to reliably detect and measure objects with pinpoint accuracy.
360° FoV maximises the coverage area for a single sensor. Its low weight and compact form factor compact allow easy installation in tight, limited spaces, and IP69K rating protects against dust and water ingress for deployment in challenging environments.
S3-2
Quanergy's S3-2 is a100% CMOS solid-state LiDAR sensor.
Using Optical Phased Array technology and affordable, scalable CMOS silicon processes, the S3 provides unique electronic beam steering without any moving parts, making the sensor impervious to vibration, a mean time between failure of 100,000+ hours, and with the cost efficiency required for industries such as security, industrial automation, and transportation.
---
SICK
MRS1000 3D LiDAR
An efficient, all-around 3D LiDAR sensor with a robust enclosure for outdoor deployment, the MRS1000 is a multilayer laser scanner that reliably and accurately detects and measures objects swiftly, in multiple dimensions.
A 275° horizontal FoV consisting of four layers enables large volumes of data to be collected from different angles, making MRS1000 ideally suited to outdoor navigation and collision avoidance applications.
---
Valeo
Mobility Kit – SCALA 3D LiDAR
ROS compatible, automotive-grade LiDAR designed for ADAS and autonomous platforms.
The SCALA® gen 2 Mobility Kit from Valeo is a plug-and-play solution granting swift access to the pointcloud data.
SCALA is designed and built to comply with the strict specifications of the automotive industry, and for volume production.
Mobility Kit- Near Field LiDAR
A high performance, high-resolution plug and play near field LiDAR A4 sensor, acquiring depth-intensity-image and point cloud via Ethernet.
Ideal for low-speed manoeuvring and cold-start use cases, near field LiDAR creates a 3D near field cocoon determining the full shape of objects and obstacles, especially in blind spots and at close range. The sensor provides a wide 78° x 110° field of view and sharp pointcloud volume precision.
---
Surveying
LiDAR Remote Sensing Payload Instrument (RESEPI)
A solution for extremely accurate remote sensing applications, RESEPI from Inertial Labs is a compact, low power, lightweight system, designed to fit the size and power requirements of any project allowing your drone to fly longer and collect more data. RESEPI's highly automated software suite with automatic RTK LAS file generation, along with a one-click command-line interface, makes point cloud generation swift and simple.
Compatible with numerous LiDAR sensors, and easily integrated with your UAV platform, RESEPI is suitable for a range of applications, from utility inspection and site monitoring to scanning, mapping and precision agriculture.
When you rent RESEPI from us it comes equipped with an OS2-32.
---
Contour – all-in-one 3D scanning and processing
Contour is the all-in-one mobile 3D colour-scanning and processing system from Kaarta, providing real-time 3D modelling from input to output.
Considerably faster than terrestrial laser scanners, Contour lives up to its name with its ability to capture small and complicated spaces. Freed from a fixed position tripod, Contour is hand-carried while scanning to generate a 3D map without unnecessary infrastructure.
Radar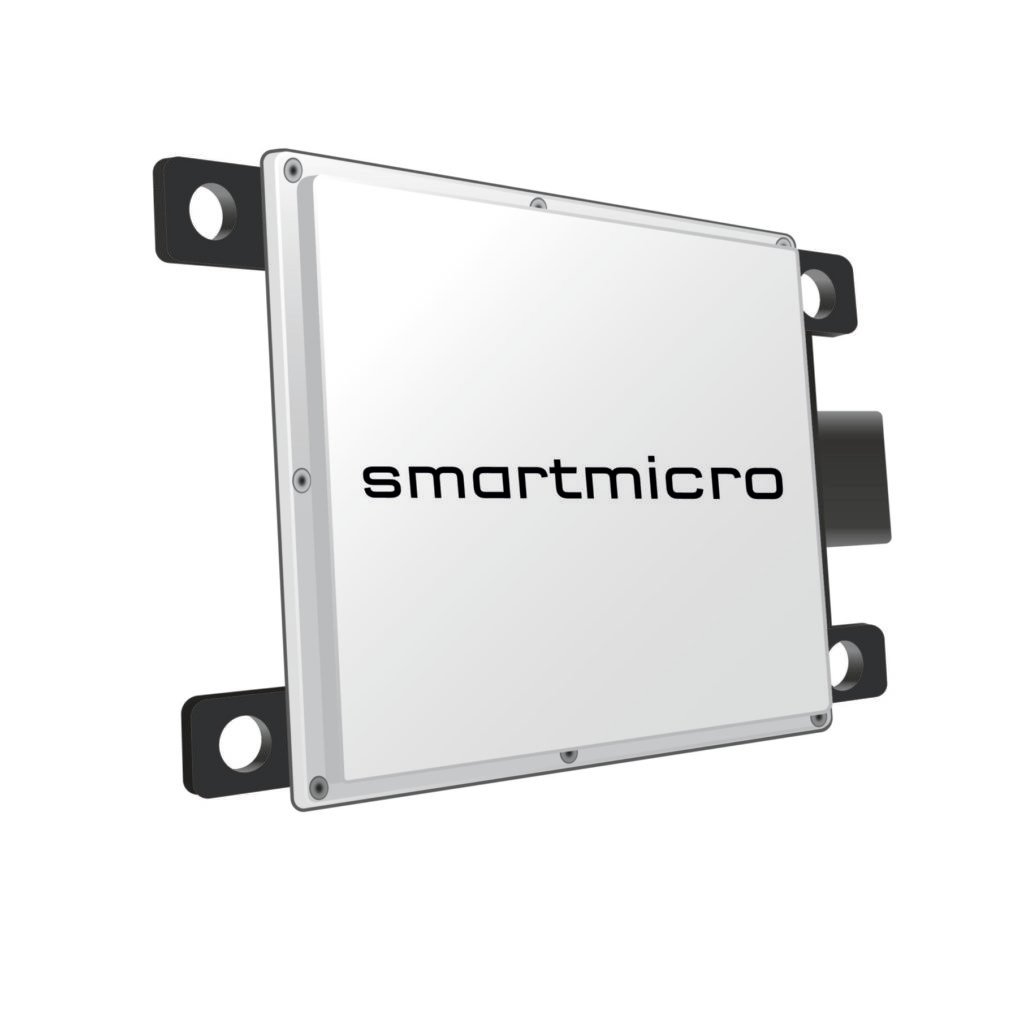 smartmicro Automotive Radar Sensor: UMRR-96 Type 153
Small, lightweight and robust, UMRR-96 from smartmicro is a low-cost 77-81 GHz radar sensor for parking and Level 4 autonomous vehicles.
Well-suited to adverse conditions, the sensor is unaffected by weather, independent of sunlight, and withstands high shock and vibration levels. UMRR-96 allows users to switch between short, medium and long-range modes, altering waveform and detection performance.
Ultrasonic
Neobotix USBoard starter kit
The USBoard from Neobotix allows developers to add eight ultrasonic sensors to their platform, providing autonomous robots or self-driving vehicles with helpful additional information about their environment. These sensors can be placed anywhere to fill gaps that cannot be covered by other sensors. The kit includes 8 sensors and 8 snap-in mounts and is ideal for small vehicles and mobile robots.
The USBoard Starter Kit contains everything one needs to start developing on-vehicle sensing, and is expandable up to 16.
---
Valeo Mobility Kit – ultrasonic sensor system
Easily integrate ultrasonic sensors to any autonomous platform with this high-performance plug and play kit.
Valeo's automotive-grade, ROS compatible ultrasonic sensors are used in a range of applications across the globe, offering Sensor Distance Interface (SDI) and freespace output via CAN. The system provides the direct distance detected by each sensor and freespace.
Comprising up to twelve ultrasonic sensors, one ECU, sensor holders and harness, and instructions for easy integration and interface, this kit also features auto-calibration making the process swift and simple.
Camera
Valeo Mobility Kit – 1MP fisheye ETH camera
When it comes to performance and safety, image is everything. Valeo's 1MP fisheye ETH is an ultra-robust, automotive-grade camera, delivering high-quality images in all environmental conditions, and providing sharp images across the whole range, from below freezing to high temperatures.
This ROS compatible perception solution kit contains everything required to easily integrate the cameras with the majority of development platforms.
Positioning
Inertial Sense Multiband µINS development kit
The rugged uINS from Inertial Sense is a precision miniature dual GPS aided INS. Fusing MEMs gyro, accelerometer, magnetometer, barometric pressure, and GPS (GNSS) sensors, the unit provides an optimal estimation of attitude/orientation, velocity, position and robust heading not reliant on the magnetometer.
This development kit contains everything required for testing and validation. The USB cable directly links the sensor to your computer for data analysis and testing.
Single-band version is also available.
---
Swift Navigation PGM evaluation kit
A range of highly accurate positioning solutions, SwiftPath™ from Swift Navigation, combines GNSS products with leading-edge OEM chipsets and modules.
SwiftPath with Quectel uses the LG69T-AP module to provide a rapid route to cost-effective, volume production, ideal for industrial, last mile, micromobility and IoT applications, whether at the evaluation or commercial phase.
This kit is ideal for evaluating the Precision GNSS module, Starling and Skylark for your application.
Drive-by-wire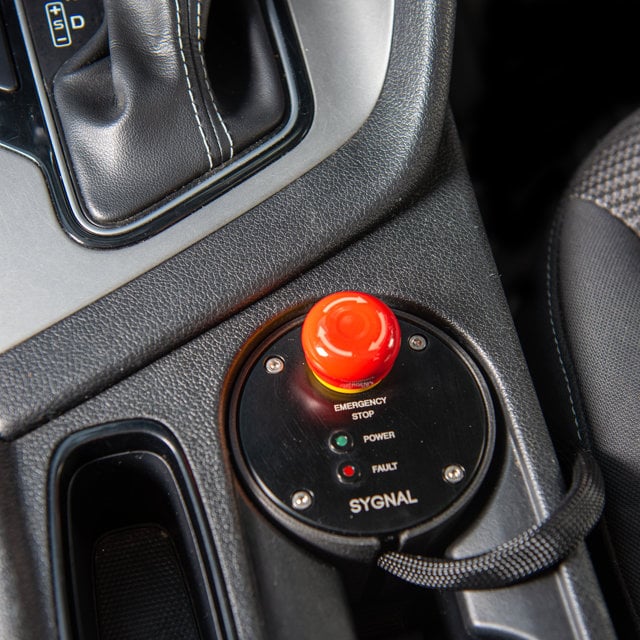 Sygnal – safety-critical drive-by-wire
Sygnal Drive-by-Wire is the first by-wire control system developed for autonomous fleets. Offering CAN-based control of accelerator, brake, and steering, the solution has been designed for rigorous on-road systems at a competitive price point that scales swiftly with volume.
A straight replacement for Kia Soul and Kia Niro currently equipped with Polysync or OSCC, Sygnal DBW has direct compatibility with existing Open Source Car Control API allowing you to upgrade software at your own pace.
Mobile robots and platforms
Clearpath Jackal
Jackal from Clearpath Robotics is a small, fast, entry-level field robotics research platform. It has an onboard computer, GPS and IMU fully integrated with ROS, wireless connectivity via Blue-tooth and WiFi so is ready to go straight out of the box.
A welded aluminium chassis providing IP65 protection and high torque 4×4 drivetrain makes this a rugged little autonomous UGV that is ready to take on demanding terrain.
---
Unitree Robotics A1
A1 is a high speed, highly agile mid-size quadruped robot that navigates even tricky terrain with unparalleled mobility, hitting speeds of 13 km/h for up to 2.5 hours on a single charge. An onboard AI-powered multi eye intelligent depth camera enables autonomous object tracking and obstacle avoidance, transmitting HD footage in real-time, while a 5 kg payload capacity and plentiful connection interfaces allow the integration of numerous external sensors.
A1 is a robot dog that can capture data, and execute tasks and routines safely and accurately, with consistently high performance.
End effectors
qb robotics SoftHand
An anthropomorphic robotic hand for education, research and development, based on soft-robotics technology.
Flexible, adaptable and able to interact with the surrounding environment, objects and humans, with intelligent, comprehensive safety features to protect operators, the items being handled, and the robot itself. Simple and intuitive, Softhand Research is a robotic manipulator able to grasp different objects without any change in control action. The combination of these innovations results in a flexible prehensile device that can grasp a wide variety of objects.
Easily integrated with numerous cobot brands and is UR+ certified by Universal Robots.
If you would like to rent any of the featured equipment for evaluation or for use in your R&D project, please get in touch.