The Level Five Supplies family is growing! We're pleased to introduce the latest member of the team, Kshitija Dhamale, a student of AI & Robotics from Mumbai who will be with us for one year as part of her master's degree. People come to the autonomous vehicle industry from all sorts of backgrounds – so let's get to know the woman behind the job title.
Hello Kshitija! Please introduce yourself.
My name is Kshitija and I am from Mumbai, India. I'm currently pursuing an MSc in Artificial Intelligence & Robotics at Herts University.
What's your role here at Level Five Supplies?
My official job title is AI & Robotics Intern.
What led you here? What were you doing before?
A one-year internship is one of the requirements of my MSc course at Herts University. Before that, I was a data analyst for autonomous vehicles at NVIDIA Graphics in India.
You're studying for an MSc in AI & Robotics – what drew you to this subject in particular?
While working for NVIDIA, I was introduced to autonomous vehicles. I was doing data analysis at the time, but the role motivated me to gain more knowledge and experience of artificial intelligence, which drew me to pursue my MSc in AI & Robotics.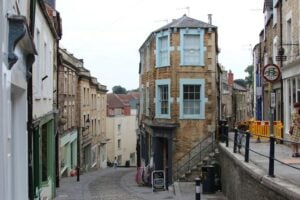 Life in rural England must be quite different from the urban environment you left in India. How are you finding it here?
In India I lived in a metro city; living in Frome is very different! Frome is known for its old structures and culture. I'm enjoying the slower pace of life, pollution-free streets, and meditating in beautiful weather and nature.
Alex has had you testing 3D mapping technology from Ouster and Kaarta – what have you discovered? Are you familiar with the technology?
While I'm familiar with LiDAR technology, I had not handled it before. I am currently exploring its uses for autonomous vehicles. I was completely new to the Kaarta Contour, but after a lot of testing I'm feeling more familiar with it. I'm excited to test and explore other products!
Before starting your master's degree, you worked for a much bigger company. How does that compare to working for a startup, so far?
It's fantastic! Working as an intern for a smaller scale company gives you the scope to enhance your skills in every aspect. There are also more responsibilities compared to bigger companies.
Are there any other projects that you're working on in your own time? Or any that you're keen to start?
Yes – I am working on deep learning technology in my free time.
What do you hope to achieve over the next 12 months?
I hope to be introduced to a range of innovative products and get the opportunity to handle, test and explore them.
Where do you hope your studies will take you in the longer term?
As we all know, AI is the future. My studies will keep me up-to-date with the latest technology, which will enable me to go on and develop AI products in future.
Kshitija joined us this month and will be with us until September 2020. We're delighted to have her on board – follow her progress here.