Ouster has officially launched the latest firmware for their suite of LiDAR sensors, Firmware v2.0 (click here to update your firmware). Ouster Firmware v2.0 is the first significant release since the launch of the Gen 2 sensors, providing new features and a stable platform to support development across the entire Ouster range.
For the OS0, OS2, and Gen 2 OS1 sensors, v2.0 improves data rate control, helps conserve battery life, and expands the operating temperature down to -40 °C.
Three new Ouster Firmware features
Configurable Azimuth Window
Standby Mode
Cold Start
For Gen 1 sensors, v2.0 also delivers an improvement in maximum range and reduces data rates by 75% and 50% for the OS1-16 and OS1-32, respectively.
For the best performance, reliability, and security, it's strongly recommended for all customers to update to Firmware v2.0. Given the number of safety-critical fixes in this release, all customers are required to upgrade to v2.0 for support requests. All prior beta firmware versions will no longer be supported going forward. Firmware v2.0 is backwards compatible with all current and prior sensor models.
You can check out the new firmware in all the possible sensor configurations by downloading sample data.
While stability and dependability are the primary focus of Ouster's firmware development, their digital LiDAR architecture uniquely enables them to deliver significant performance improvements in a way never seen before in the LiDAR industry. Their digital approach to LiDAR means that the performance of the sensor is driven through the data processing layer of the sensor, unlocking the potential for significant continuous improvements without any hardware changes.
Ouster Firmware v2.0 highlights
For all Ouster LiDAR sensors
Months of rigorous testing, tuning, and bug-fixing have been invested to deliver Firmware v2.0:
Define your field-of-view. You now have the option to define and crop out any unwanted portions of the horizontal field-of-view by setting a Configurable Azimuth Window. By limiting data to only a specific region of interest, you can reduce overall data rates and simplify your data processing. So whether it's a permanent obscurant like a pole or sensor mount, or unwanted data behind your vehicle – just mask it with a Configurable Azimuth Window, your network and processors will thank you.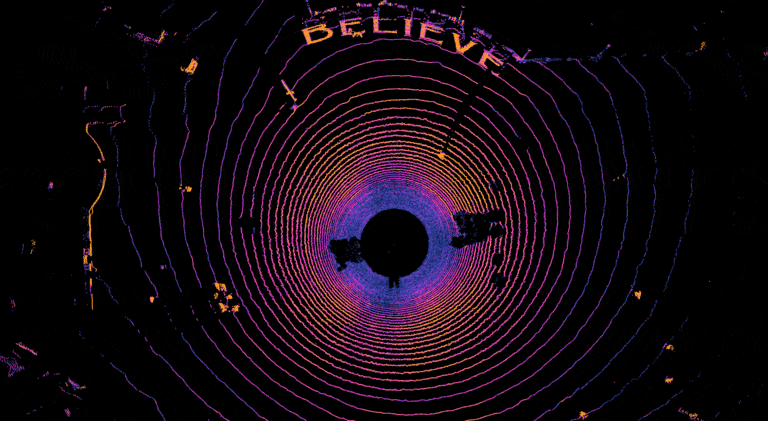 Standby Mode. Optimise the battery life of your vehicle, robot, or drone with the sensor's new low-power Standby Mode. Placing a sensor in Standby Mode decreases its power consumption to only 5W, a 70% reduction compared to that of a fully-operating sensor. When in Standby Mode, a sensor is ready to receive TCP commands, but the motor will not spin and the lasers will not fire.
Safety-critical bug fixes and other improvements. V2.0 fixes safety-critical bugs that could cause abrupt data loss or data corruption while the sensor is operating. For this reason, it's recommended all customers update to v2.0 to avoid unexpected disruptions. More details can be found in the Firmware Change Log.
For Gen 2 sensors only
All Gen 2 sensors can now reliably start and operate in even colder environments without any additional configuration.
Cold Start. With v2.0, Gen 2 OS0 and OS1 sensors can start in temperatures as low as -40 °C. When in these lower temperatures, Gen 2 sensors automatically enter a short warm-up period before operating at full range. For more details on operating specifications, you can download the datasheets from each of our Ouster product pages.
For Gen 1 Sensors only
In addition to Configurable Azimuth Window, Standby Mode, and critical bug fixes, Firmware v2.0 also delivers range performance improvements for all Gen 1 sensors and data rate improvements for 16 and 32 channel Gen 1 sensors.
Important: Please note that for Gen 1 OS1-16 and OS1-32 customers, it is necessary to update your drivers when upgrading to v2.0. The data structure in Firmware v2.0 has changed to accommodate the data rate reduction and will break any drivers working on Firmware v.1.13 (and all prior firmware versions).
Improved precision and maximum range. As part of v2.0 significant signal processing improvements have been made for Gen 1 sensors that enable the sensors to detect objects at greater range while improving their millimetre-level precision. To demonstrate this a Gen 1 OS1 sensor with v2.0 was tested on a 10% Lambertian target, outdoors under full sun. As shown in the graph below, the sensor achieves a precision of ±1 cm for ranges up to 30 metres. Beyond 30 metres, precision decays geometrically ±5 cm at approximately 60 metres.
Reduced data rates, faster data processing. Data rates on the OS1-16 and OS2-32 will decrease by 75% and 50%, respectively. With the introduction of an updated LiDAR packet structure, v2.0 now removes padded zeros for the OS1-16 and OS1-32's unused channels. This necessary step allows Ouster to make LiADR packets even more customisable in the future while still keeping data bandwidth low. Existing OS1-64 sensors will have no change in data rates. Learn more about this new data structure.
View the Change Log for a more detailed, technical description of all the changes.
Once you have updated to Ouster Firmware v2.0, you will be able to downgrade your sensor back to a prior version if needed. However, downgrading to v1.13 requires a configuration reset. See the "Updating Firmware" section of the Software User Manual for details.
What sensor generation do I have?
Find out if you have a Gen1 or Gen 2 sensor by checking the sensor serial number.
All Gen 1 sensors have a serial number with the prefix "os1-" followed by a twelve-digit number
All Gen 2 sensors have a serial number with the prefix "os-" followed by a twelve-digit number
If you need assistance in determining your sensor generation based on the serial number, please contact us and we will be happy to help
If you would like to discuss Ouster Firmware v2.0, or indeed anything else Ouster related, please don't hesitate to contact us.